Gilbarco Veeder-Root's MEA operating company has set a new expectation for fuel payment with the launch of an exciting new innovative product for their South African customers; the country's 1st free to use, pre-paid, fleet fuel payment solution named Tap 'n Fuel. In this product offering, Gilbarco Veer-Root is supplying NFC and pre-paid wallet technology on the back of being a Shell authorised fuel reseller. No card fees, no transaction fees and no bank fees.
What is Tap 'n Fuel?
Tap 'n Fuel is a fuel payment solution that helps business owners, with a small fleet, manage and track their fuel spend through simplified NFC technology and a pre-paid
wallet to pay for fuel at any participating Shell service station across the country.
Available in the Android Playstore and Apple AppStore, customers can download the Tap 'n Fuel app, activate an account and start enjoying the many benefits of the new innovative solution that eases the stress of managing fuel payment. The mobile application is linked to a pre-paid wallet as a payment mechanism, making it the ideal payment solution for the SME fleet segment that, traditionally, expenses fuel via cash.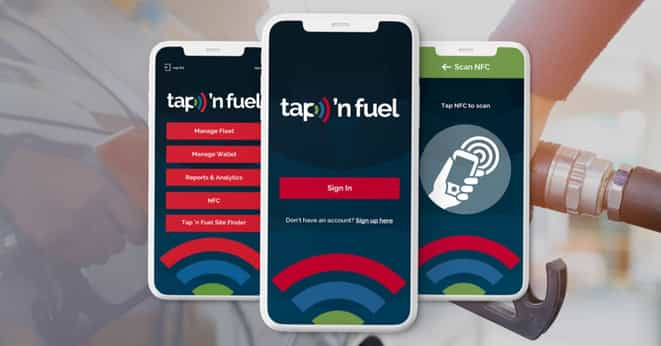 "There is a large segment in the fuel payment market that is excluded from the great technologies we, and other suppliers, offer due to the capital investment needed to facilitate the level of control these technologies offer.
Using our Voice-of-the-Customer toolset, we recognised that many customers do not, or cannot, invest in expensive technologies nor use expensive fleet card facilities, and Tap 'n Fuel has been our thoughtful response to our customers' needs." said Sean McQuade, Marketing Director for the Middle East and Africa, adding: "We are extremely proud of what we've developed for the SME B2B segment."
"Tap 'n Fuel has been our thoughtful response to our customers' needs." - Sean McQuade, Marketing Director MEA
The 1st Free-To-Use Offering in South Africa
As the country's 1st free-to-use solution, Tap 'n Fuel requires no setup-up cost for its users. Once they've registered via the app and placed a free order for NFC stickers, they are couriered to the customer alongside the onboarding kit needed to onboard the customer with step-by-step instructions on how to link the stickers to the app. The monthly transactions also do not attract transaction fees.
To facilitate a wide refuelling network, Gilbarco Veeder-Root has partnered with Shell, one of the largest oil companies in South Africa, as an authorised reseller. All participating Shell service stations are easily locatable through an easy to use, inbuilt site finder and navigation feature in the Tap 'n Fuel app.
For customers, the solution offers a simplified technology, convenient control, wallet management, NFC management, site finder and navigation, as well as intuitive fleet configuration; all thoughtfully put together to ensure that fleet owners and managers are in the front seat when it comes to their fleet fuel payment management.
How Does It Work?
An NFC sticker is attached to the windscreen of the customer. This sticker is linked to the prepaid wallet in the Tap 'n Fuel mobile app which is set up and configured by the owner or administrator of the fleet who uses the app to link vehicles to NFC stickers. When the fleet vehicle arrives at a participating Shell service station, the attendant taps the vehicle's NFC sticker with the handheld financial terminal, identifying the vehicle and checking the pre-paid wallet balance. If your wallet is topped up, the fuel transaction is authorised and the driver can refuel.

"When we were considering how our customers would want to pay for fuel, it was identified, early on, that not everyone has a fleet card, or carries credit cards; so we linked a pre-paid wallet to the solution. This now allows anyone to top up their wallet and refuel. The great news is that there are no credit checks or deposits to be paid, simply add funds to your wallet, tap and fuel! And the best is news is… it is free to use! Our customers do not pay to activate an account, load vehicles or receive the first NFC stickers. All they need to do to keep it free – keep on using it!" said Sean McQuade.
Tap 'n Fuel is the ideal solution for fleet owners or managers who want to try a fleet fuel management system. It replaces cash, local service station accounts, and personal or company credit cards to refuel your fleet, and tracks your fleets' fuel spend through interactive dashboards.
Now, you can manage your fleet fuel expenses via a mobile app. That's is why it's tagged "Fuel Payment Re-imagined."
To learn more about how Tap 'nFuel works and how your business can benefit from it, visit https://tapnfuel.gilbarco.com
Or download the brochure here.
About Gilbarco Veeder-Root
Gilbarco Veeder-Root is a complete solutions provider. With a universal range, global reach, deep-rooted expertise and superior customer service, Gilbarco Veeder-Root is committed to 'building better business' for our customers. By understanding the challenges that our customers face, we are able to meet their needs with adaptable and expandable solutions that are designed to maximise uptime and profitability.
About Shell
Shell is an integrated energy company that aims to meet the world's growing demand for energy in ways that are economically, environmentally and socially responsible. Today, Shell South Africa is mainly involved in the Retail and Commercial Fuels, Lubricants and Oils, Chemicals, Manufacturing and Upstream Exploration. They have a nationwide retail network of strategically located service stations, offering our customers a variety of fuels products, as well as friendly service and convenience shopping.