In 2020, Dubai was on track to host the biggest event in the history of the Arab World: the first World Expo to be held in the Middle East, Africa and South Asia (MEASA) region. Originally planned for October 2020 to April 2021, the event was postponed due to the ensuing impact of the global Coronavirus pandemic.
Luckily, the Expo will now run from 1 October 2021 to 31 March 2022.
What is Expo 2020 Dubai?
Expo 2020 Dubai is a World Expo; a mega international event in terms of size, scale, duration and visitor numbers. But it's more than just a mega-event. It's a celebration of the UAE's Vision 2021 that supports the growth of tourism, stimulates the development of business innovation, and enhances the country's international reputation as a formidable location to do business. The Expo 2020 site spans 4.38 square kilometres and is located in the Dubai South district, close to Al Maktoum International Airport and within easy reach of international airports and cruise terminals.
Service Station of The Future
One of the key highlights of the forthcoming Expo 2020 Dubai was the recent unveiling of the Service Station of the Future by ENOC Group, the Official Integrated Energy Partner of Expo 2020 Dubai.
Video: Service Station of the Future opens at Dubai Expo 2020 site (Gulf News, 2021)
The innovatively designed station is the world's first LEED platinum-certified service station and the region's first to incorporate an on-grid wind turbine for power generation. Not only does it feature carbon fibre which was used in the construction of its canopy, but the sheer volume that was used to build the 133 multi-layer canopy frame is commendable; over 43,000m 2 /37 tonnes of carbon fibre to be exact.
The design, inspired by the Ghaf which is the UAE's national tree, features a leaf-shaped ethylene tetrafluoroethylene cushion canopy, is 100 per cent UV ray-protected and corrosion-proof, and is illuminated with more than 3,800 LED light modules. The nine tree designs that support the station were built from another 22,500m 2 of carbon fibre, and some 283 solar photovoltaic panels are set to generate 143 MWh of solar power per year. But that's not all. A 25-metre wind turbine will produce 12.7 MWh of wind energy annually, supporting environmental sustainability efforts.
The station uses carbon filtration technologies to recycle greywater for irrigation and has drinkable air units using ozonation techniques that convert water molecules from the air to drinkable water for staff. Machine learning, artificial intelligence and data analytics customise retail offerings, managing queue and waiting times at the forecourt, and improving the customer journey.
Gilbarco's LatitudeTM Dispensers Join the Show
Joining the showcase of ENOC's Service Station of the Future is Gilbarco Veeder-Root's own, future-ready dispensers, the Latitude, enabled through our local, Dubai-based distributor, Middle East Oilfield Services (MEOS), who supplies and installs all Gilbarco Veeder-Root's products and solutions such as pumps and dispensers, automatic tank gauging and forecourt automation solutions among others. Showcase projects such as these will not be possible without the keen support of partners, such as MEOS, who understands the end customer's vision and possess the innovative excellence to bring such a vision to life.
Key Features of the Latitude Series of Dispensers
At Gilbarco Veeder-Root, we've been hard at work reinventing and redesigning a future where you can keep pace with change and technology.
Here's why they're the chosen solution for station owners looking for a better, new age fuel dispenser:
Enhanced Security

PowerSafe Electronics

Practical Design

EasyView Display

Ergonomics and Usability

Streamlined Calibration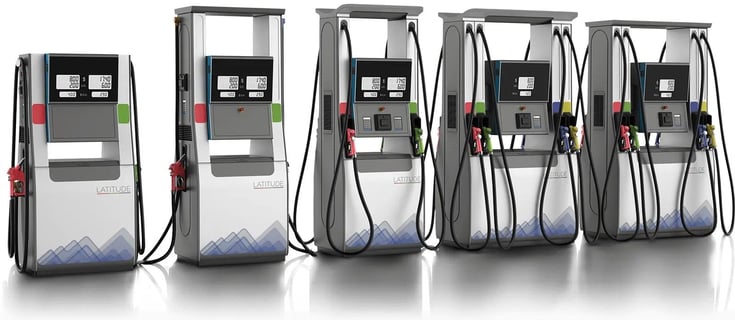 Why Choose LatitudeTM?
Engineered for efficiency and security, but designed for convenience; LatitudeTM will exceed expectations at every step of your customer's journey. Its modern, uniform design has been carefully crafted to enable an engaging experience that drives forecourt traffic, fosters loyalty, and grows with your business. With 5 configurations to choose from, the LatitudeTM series offers you the freedom to tailor your dispensers, future-proof your business and enable endless possibilities.

Over the next few years, the needs of your station and your customers will evolve, the question is how ready are you?
Ready to join the future?