Designed for the human hand, engineered with stronger materials, and built to maximize flow, this is what Gilbarco Veeder-Root set out to achieve when it designed its latest nozzle, the Ergo™75, to ensure that your forecourt gets the breakthrough engineering it deserves. With a sleek and light nozzle designed for ergonomic comfort, the Ergo™75 is leading the evolution of nozzle design and support with its ease of use, durability and flow rate; currently the highest available in the market.
The Ergo™75 has the lowest pressure drop and highest flow rate of any nozzle, resulting in faster fill-up. and offering less turbulence, foaming and undesired auto-shut offs. In addition, the redesigned horizontal nozzle valve train and release spout offer low resistance, delivering maximum flow. The nozzle has the capability of easy one-handed use as it only requires one-third of the lever force required by competing products, creating a better fueling experience for handlers. The lightweight, robust materials used to make the Ergo™75 maximises its useful life and provides a modern look and feel.
Rigorous testing:
The Ergo™75 was put through three million test cycles, three times more than competitor nozzles. The UV-protected components which protects the nozzle against cracking and fading caused by natural weathering and heavy use was also tested to ensure it withstands extreme environments; from temperatures as low as-40°C to as high as 52°C;
ideal for the harsh African sun and Middle Eastern desert.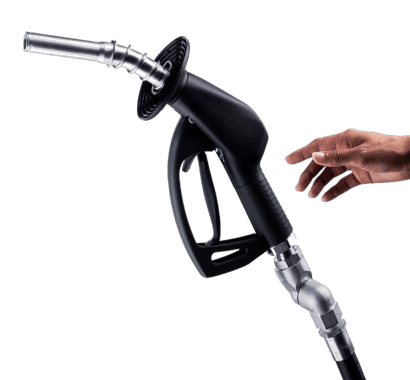 Ergo™75 features:
The Ergo™75 focuses on three main aspects: Flow, Comfort and Durability.
Highest Flow Rate:
The lower the pressure drop, the higher the flow rate. That means a faster fuel fill-up and better performance across all your dispensers. With a unique horizontal valve train creating a path of least resistance, the Ergo™75 has the highest sustained flow rate of any nozzle — even when multiple pumps are in use at the same time.
Durability and Longevity:

Through in-house testing, we put the Ergo™75 through its paces — more than three million, to be exact. That's three times the test cycles conducted on competitors' nozzles. Specialized materials and premium components add protection and hold up to heavy use and extreme temperatures.
Premium Ergonomics:

The Ergo™75 was inspired by the human hand, so it's no wonder it looks different than any other nozzle. Its sleek design weighs in at only 2.15 lb. — the lightest-weight nozzle on the market. Everything in the design makes it easy to hold and easy to use, while also lifting the appeal of your forecourt. The Ergo™75 is light and ergonomic, but what you'll really notice is its extremely low lever force and unique one-finger, hold-open clip. It's a better fueling experience for every customer.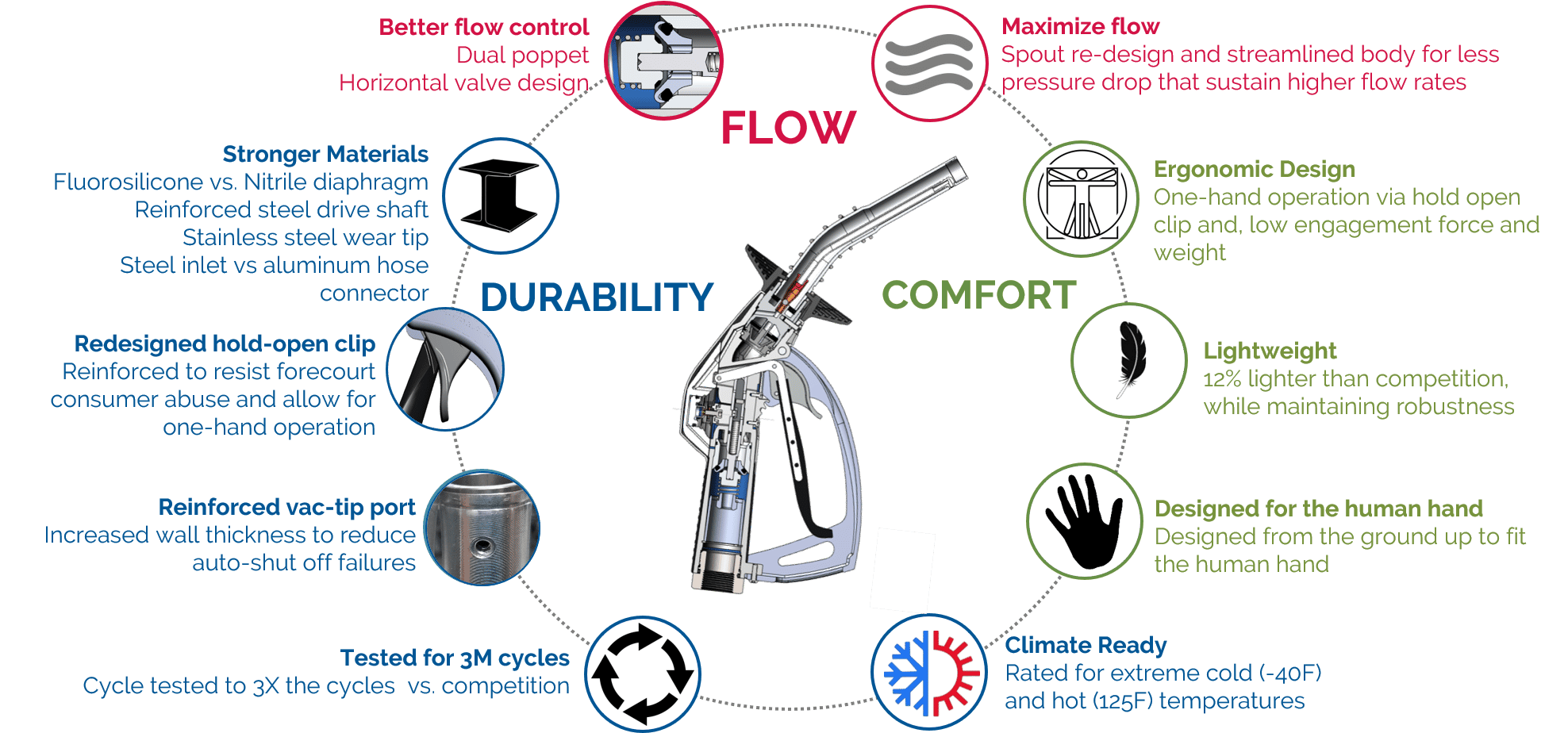 Performance Comparison:
| | | | |
| --- | --- | --- | --- |
| | Ergo™75 | Others | |
| Durability | 3 million test cycle | 1 million test cycles | Less nozzle replacements. |
| Warranty | 27 months | 15 months | Peace of mind with additional year of warranty coverage. |
| Pressure Drop @ 10GPM | 7.6 psi | 11.2 psi | Increase throughput in peak periods and maintain customer experience, up to 10% |
| Lever Force | 4.1 lbf | 12.8 lbf | 66% less force required. Customer friendly, meets ADA requirement. |
| Drips | 57% Less Drips | | Compared to conventional nozzles. Less drips = Cleaner forecourt |
Designed for comfort. Engineered for performance. Watch the video:
When we set out to completely reinvent nozzles, we found inspiration in nature's perfect design: the human hand. Breakthrough Engineering. Highest Flow Rate. Increased Durability. Easiest to Use. Sleek and Light.
Interested in the Ergo™75 for your forecourt? Contact us today.