The TLS-350 Automatic Tank Gauge (ATG) has long set the standard for exceptional quality in fuel management systems. Today, the TLS-450PLUS ATG builds
on that solid legacy to set a new bar for reliability and convenience.
The TLS-450PLUS provides a wide range of connectivity options, ensuring you always know what is going on with your fueling assets. Whether you need to remotely access or configure your tank gauge from a computer, or you want to check fuel inventories, alarms or more from your cell phone or tablet, the connectivity features needed to
get the job done come standard, exclusively on the TLS-450PLUS and TLS4 series tank gauges.
Connectivity: Access & Manage Critical Data
WEB-ENABLED INTERFACE: Modify configuration & programming, including:
Print wet stock management and compliance reports.

Set up email notifications for alarms and reports.

Establish automatic events scheduled to your business needs.
MANAGED SERVICES: Cloud based fuel management:
Insite360 provides total control of your network with a team of analysts protecting your most valuable assets. Maximize your business with cutting-edge features including detecting dispenser flow reduction and meter drift by nozzle.
Enhanced Security: Greater Connectivity Needs Greater Protection
The TLS-450PLUS provides the security needed for today's connected world. Whether a security breach comes from inside or outside an organization, older technology lacks modern security features needed to combat cyber intruders, who can wreak havoc on your business. Rest assured with the comprehensive security features of the TLS-450PLUS. Features such as strong encryption, configurable user access, and segmented network ports help ensure your network is safe at every level. No matter your
network's size, security comes standard with the TLS-450PLUS.
THE TLS-450PLUS SUPPORTS THESE ENHANCED SECURITY FEATURES:
Isolated Networks

Encrypted Web Access

Encrypted Serial Access

Role-Based Access

Front Panel Access

Network Routing: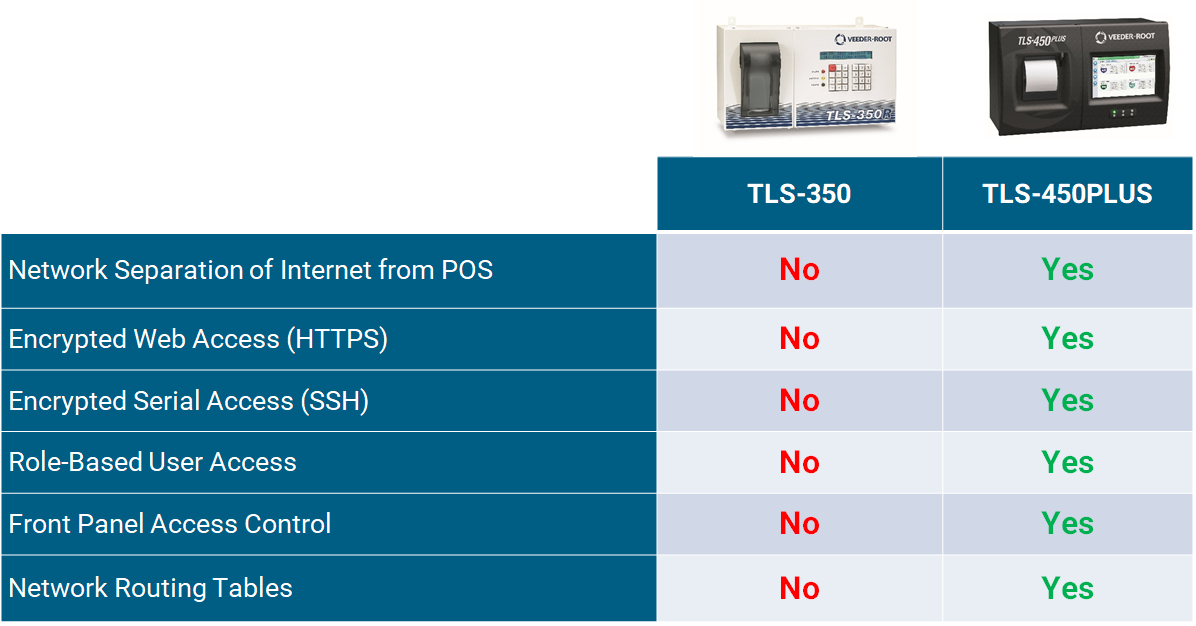 Total Cost of Ownership: Protect your investment and extend your warranty
The TLS-450PLUS console provides an expanded, advanced feature set at a lower price point than the TLS-350 console without needing to replace your probes or sensors. Upgrading automatically extends the warranty of your probes and sensors for the duration of the warranty on your new TLS-450PLUS.

Significant labor savings can be gained with the TLS-450PLUS in comparison with the TLS-350, from the use of features like remote configuration, remote connectivity, automatic event notifications and more. The TLS-450PLUS helps reduce downtime by ensuring you have real-time access to everything you need to keep your station in top condition.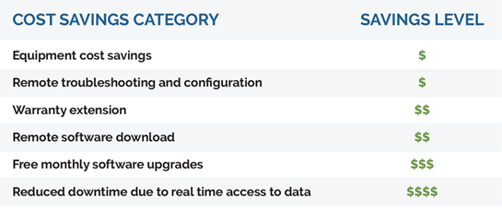 Expanded Capability: Designed To Be A Platform For The Future
The operating software is always up to date with the latest enhancements and features, and data is secure. Features improved on the TLS-450PLUS:
Digital Pressurized Line Leak Detection (DPLLD)

AccuChart™

Business Inventory Reconciliation (BIR)
Additional features in the TLS-450PLUS include:
DEF Recirculation

Intelligent Pump Control

Enhanced Encryption Methods

Free Software Upgrades

Remote Software Updates (CDM)

Email Notifications

Custom Alarms

And More
Do you need to upgrade? Download the benefits of upgrading to the TLS450Plus here: