Gilbarco Veeder-Root's AVI ensures the safety of your customers and employees by enabling payment for refueling without physical contact. It also increases station throughput and customer loyalty.
The COVID-19 pandemic is on everyone's minds and affecting everyone's actions all over the world. Since people who seem and feel healthy can unwittingly infect others, "social distancing" is becoming the new norm, so people can protect themselves and their families. This means everyone needs to maintain a significant distance, and wear gloves or wash hands thoroughly when touching anything that others may have touched.
Suddenly, regular behaviour becomes threatening and common habits must be changed. Yet, life must go on, balanced with personal safety.
Fueling Challenges: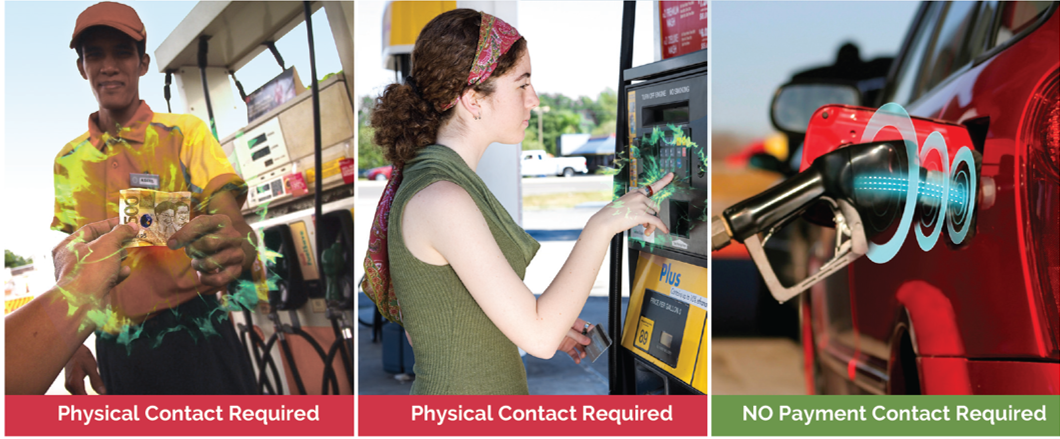 What impact does this have on retail fuel stations? Typical interactions between a fuel station attendant and a customer becomes surprisingly challenging: how can one transfer a means of payment (e.g. cards, cash) while maintaining the proper distance? During this time, consumers that drive into the fuel station to fill up may be concerned about both the self-service lane and the attended lane. In self-service, drivers operate everything by themselves and thus should touch the terminal keypad which could have been contaminated by previous customers or attendants. Alternatively, they can select the full-service lane, but then the method of payment must be physically transferred to the attendant, which also exposes both the driver and the attendant.
While many keep hand sanitizer or gloves in their cars for just this purpose, we have heard from some of our clients that customers are holding up the lines when they step away from their cars to go wash their hands after refueling. Others are offering gloves to customers, which simply makes customers take more time at the pump.
The Solution: Turn the Vehicle into the Means of Payment
Gilbarco Veeder-Root's Automatic Vehicle Identification (AVI) powers a completely "hands-free" payment for fueling. Used around the world in 40,000 service stations and 7.5 million fleet and consumer vehicles to increase station throughput and build customer loyalty, these compact units provide the fastest, simplest and secure fuel payment for millions of vehicles worldwide. A vehicle with AVI installed can refuel in an attended lane without any direct contact with the station attendant, even without opening the window. When using the self-service lane, there is no need for customers to touch the payment terminal for credit card payments or to use the BNA (Bank Note Acceptor) for cash payments.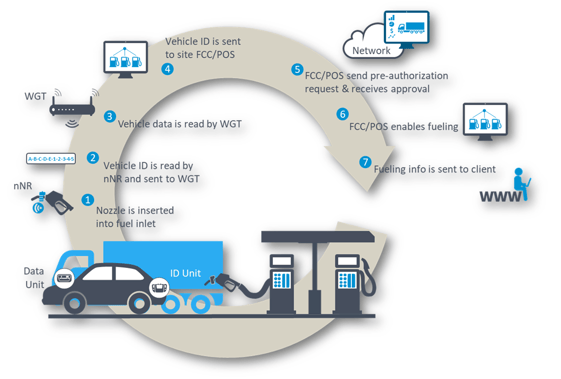 With AVI, the vehicle itself is the means of payment. A compact and passive RFID unit is mounted next to the fuel inlet. AVI units are easy to install – customers can even install some types of vehicle units themselves with no need for a professional installer. Once installed, AVI enables immediate payment authorization when the nozzle is inserted into the fuel inlet. The result is fast refueling with no need for cash, card, or coupon payment, providing measurable value to oil companies, commercial fleets, and private consumers.
AVI ensures that fuel is dispensed solely to the fuel tank of the authorized vehicle whose account should be charged. Removing the nozzle and trying to fuel another vehicle immediately suspends fueling activity. An optional additional unit can be installed that tracks vehicle data readings (e.g. odometer, engine hours) and can detect misuse such as siphoning fuel.
Gilbarco Veeder-Root's AVI fueling systems lead in market deployments and expertise. Its patented technology sets the standard in terms of functionality and value. Beyond the current market reality of COVID-19, Gilbarco Veeder-Root's AVI solution brings vast benefits to oil companies, fleets and consumers that will last far beyond the current pandemic.
Benefits for Oil Companies:
AVI provides the utmost fueling experience through simplicity and speed, and it eliminates potential misuse associated with fuel cards.
Deepens fleet and consumer loyalty to the oil company, expanding the market share and increasing the sales volume

Strengthens the brand image by leading with service innovation

Increases station throughput by shortening fueling time and queues
Benefits for Fleets:
AVI introduces significant control of fuel expenses regardless of whether fueling occurs at their sites or a retail station.
Saves costs while maintaining fleet control: AVI enables fuel to be dispensed only to the intended tank and ensures that the right type and grade of fuel being dispensed. Two-factor authorization options (with driver tag, PIN, mobile app) are available for increased security

Increases efficiency: Odometer and engine hours' readings can be combined to monitor average fuel consumption, schedule maintenance, and control mileage

Convenient operation: fleet managers can easily set limitations and restrictions
Benefits for Consumers:
Faster fueling: fast fuel authorization without needing to fumble for credit cards or cash

Safer fueling: no need to touch the payment terminal or to come in any direct contact with the station attendant

Fuel for other drivers in the family: for example, if your teenage driver needs to refuel, they can do so with the AVI, with no need to send them to the fuel station with a credit card

Better insight: learn about fuel usage through constant monitoring and reports
In the age of Covid-19, retail fuel stations and oil companies can keep their fleet and consumer customers loyal and safe by offering them Gilbarco Veeder-Root's AVI.
Interested in AVI? Gilbarco Veeder-Root's AVI is sold around the world and is currently offered at a special promotional rate due to the COVID-19 pandemic. Contact your Gilbarco representative today for more ­­­­­­information or watch the video below to get started.