Our partners across the Middle East and Africa are the heartbeat of our operations. Our distribution model leverages the best in-country service providers to bridge the gap between OEM and other entities in the distribution channel or supply chain. Our distribution network across the Middle East and Africa covers more than 50 countries, and represents all that Gilbarco Veeder-Root has stood for since 1865, manufacturing the world's leading fueling and convenience store equipment and technology and ensuring that these reach our end-customers.
This feature focuses on Abu Dhabi Oilfield Services Company, also known as ADOS, the Gilbarco Veeder-Root distributor in Abu Dhabi, United Arab Emirates.
About ADOS:
ADOS provides technology and services to the oil and gas industry, from upstream to end-user downstream. Their services in the energy industry include exploration, drilling, production and refining, delivering results their customers can rely on to enhance productivity, optimise operations, and minimise risk through engineering, manufacturing, services, and distribution capabilities.

Operating in six locations, ADOS was initially established as a partnership in 1972, providing customers with innovative technologies and services and growing to employ over 700 employees across various business units. With more than 45 years' experience, ADOS services over 600 stations across the UAE through a team of 110 technicians and engineers across various business units.
One of these business units, ADOS Forecourt Services, is the largest provider of forecourt solutions in the region, which has dedicated
Service and Engineering teams based in Abu Dhabi. ADOS has been a distributor of Gilbarco Veeder-Root products and solutions since 1969, the year in which their initial agreement was concluded. ADOS Forecourt Services supplys and installs all Gilbarco Veeder-Root's products and solutions such as pumps and dispensers, Automatic Tank Gauging and forecourt automation solutions among others.
Distributor of The Year: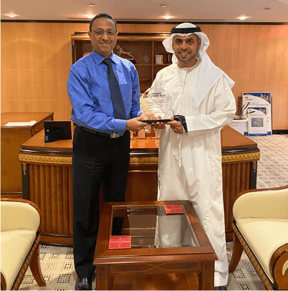 In 2019, ADOS achieved outstanding sales in the region and consequently won the most prestigious award at the Gilbarco Veeder-Root Middle East and Africa Distributors Conference 2020 for Distributor of the Year.
The award was given to ADOS as the distributor who not only represents all that Gilbarco Veeder-Root is, with pride, passion and insight, but who lives and breathes the spirit of Building Better Business for our customers. Gilbarco Veeder-Root has been around since 1865, and it is this legacy that lives through in our distributors such as ADOS. ADOS, represnted by its Chairman Mr. Jamal Mussalam Al Mazrouei, received the award for their innovative service offerings, which are evident in one of their latest projects as a supplier to ADNOC Distribution, who recently launched their 'On The Go' service stations utilising new digital technologies to improve the customer experience with their mew drive-through Oasis stores.
ADOS supplies and installs Gilbarco products to ADNOC for this new initiative, including our automation solution consisting of Veeder-Root Automatic Tank Gauges and our DOMS PSS 5000 Forecourt Controller.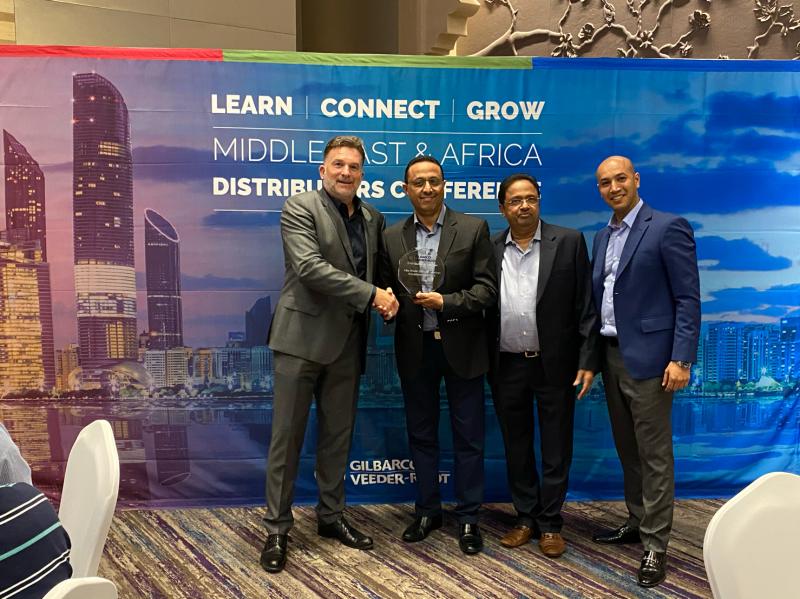 ADNOC is planning fifty 'On the go' stations by the end of 2020 and describes theses stations as:
Self-contained fueling station offering multiple designs, flexible solutions with different configurations tailored to each location and customer needs.

Drive-through Oasis store, linked to fueling aisle to facilitate in-vehicle shopping, with or without fueling.

Offering fuel and convenience store experience under one canopy

Drive-through convenience, technology-enabled Oasis stores. Smart menu displays convenience store items to choose from.
ADOS definitely 'Keeps The World Moving', as they are always striving to exceed customer expectations in line with Gilbarco Veeder-Root's, mission, vision and legacy. ADOS has recently also donated 1 million USD to aid and support workers in Abu Dhabi that have been affected by the COVID-19 pandemic.
ADNOC 'On The Go' Stations:
ADOS Contact Information:

+971 2 6344441

sales@adosuae.com
http://www.adosuae.com/

https://www.facebook.com/adosuae/

https://www.linkedin.com/company/abu-dhabi-oilfield-services/
ADOS Corporate Headquarters | Al Falah Street | Abu Dhabi | U.A.E | P.O. Box: 4015