Site managers face many challenges on a daily basis – From balancing inventory from tanks to reconciling sales and calculating deliveries, retail forecourts demand effective management practices. How do we juggle all these time-consuming tasks whilst maintaining a streamlined forecourt and control over our wetstock and site operations?
Identifying and addressing fuel losses play a critical part in the successful management of a forecourt. In our Blog series - The Journey to Forecourt Automation - we'll explore the importance of reconciliation of wet stock and site activities, where, how and why fuel losses occur and the effect of these losses on your bottom line.
We specifically explore various forecourt architectures and provide tools and tips to reconcile variances through manual and automated solutions, as well as provide our recommendations for effective wetstock and site control practices.
How much are fuel losses costing you?
Where do fuel losses occur?
Tank calibration, delivery shortages and temperature changes have the largest impact on variance whilst meter over-dispensing presents the most immediate savings.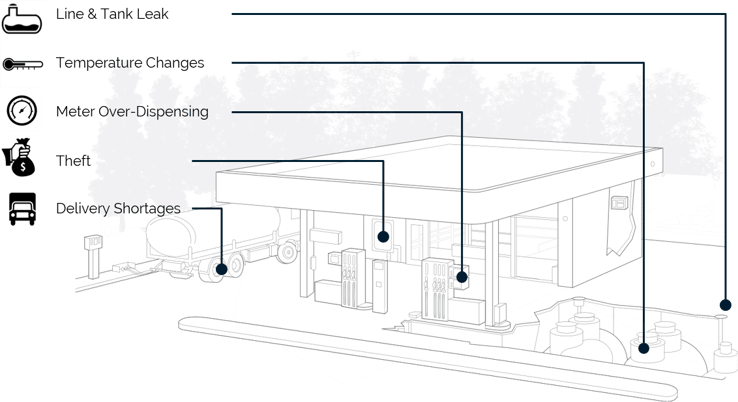 1. Delivery Discrepancy
Do you know if all the fuel in the delivery truck made its way into your storage tank? What is your process for confirming bill-of-lading accuracy? Protecting your fuel assets to ensure you're getting what you pay for is crucial for reducing fuel loss from delivery discrepancy. So how do you ensure there is an accurate record of delivery data to reduce loss?
Automatic Tank Gauging systems have become a staple for every fuel site operator. Not only does it facilitate easy fuel ordering by providing real-time details of delivery start and end times which is crucial to effectively address delivery discrepancies, it also eliminates dipstick reading errors.
2. Loss of Temperature
Fuel expands or contracts depending on temperature. This can occur both in the delivery truck and the underground storage tank. If it is cold outside, the fuel could contract in the truck before delivery occurs, causing a variance between the actual delivery and the bill of lading. Alternatively, if the outside temperature is warmer than the temperature below ground, as is expected from the warm African sun and scorching desert, a fuel delivery may contract inside your tank, resulting in the appearance of loss without any delivery discrepancy. That means you've lost fuel without any wrong-doing which makes matters even worse.
The only way to address this discrepancy effectively is by deploying Automatic Tank Gauging systems with probes as they help site owners to understand variances caused by temperature, helps to avoid manual reconciliation errors and assists with automated level measurement and management
3. Theft
Theft detection is probably the most sobering reality for a forecourt owner. From dispenser tampering to fuel missing from delivery trucks—theft eats away at your profits. Thieves can be creative and often find ways to siphon fuel straight from underground storage tanks, bypass dispenser meters and drive off the forecourt before paying. With so many anti-theft products in the market today, how does a site owner distinguish between what is needed and what is "nice-to-have"?
The most favoured application to prevent theft is the installation of a forecourt controller. Not only can these types of technologies address theft through attendant tagging, preventing drive-off thefts and inventory management, they are capable of hosting an array of applications which interface through HIM's (Hardware Interface Modules). Dispenser Control, Wetstock Control, Attendant Tagging, Automatic Vehicle Identification and IFSF Car Wash modules are but a few of the applications available on the DOMS Forecourt Controller for example.
Not only does scalable technologies open a wide range of options for future expansion of your site, it's also a cost saving for site owners starting their journey to full site automation as the technology can be upgraded with additional HIM'S as and when the functionality becomes required.
4. Storage Tank Leaks
Storage tank leaks are likely the most straightforward source of fuel loss, but also the most urgent. Aside from the hazardous environmental and regulatory repercussions of a storage tank leak, profits also take a hit when a leak is present. Fortunately, there are a variety of solutions available to detect and prevent storage tank leaks, from automatic tank gauges to alarm management services.
Although Environmental Protection Regulations differ from country to country, the United States Environmental Protection Agency provides a comprehensive overview of UST (Underground Storage Tanks) regulations and requirements to prevent leaks and releases in the United States of America.
Veeder-Root has summarised the UST requirements for the USA in their piece on the 7 Methods of Leak Detection which indicates that an Automatic Tank Gauge (ATG) system is your first point of call to address storage tank leaks. It provides highly accurate inventory measurements combined with the tracking of delivery and dispensing activities.
It is very important to note that any one method of release detection has the potential to miss an event, or its magnitude, if solely relied upon. It is best practice to build a system with multiple release detection methods incorporated and managed through the Automatic Tank Gauge.
Regulations may differ in your region and it is advised that you contact your local agency to ensure that you are meeting all requirements.

I'm losing fuel, but now what?
The first step in addressing fuel losses is understanding the extent of your losses and calculating your variance. This will help you to calculate the amount that you could be saving by eliminating unnecessary fuel losses.
A fuel variance is the difference between the amount of fuel available in a tank at any given time, according to recorded deliveries and sales, and the actual amount of fuel available in the tank. Fuel variances can be positive or negative. – Veeder-Root, USA.
There are two overarching sources of variance:
Physical fuel loss that happens during incidents within a fuelling system, or adjusted losses due to poor or inaccurate data. Variances caused by physical fuel loss are a loss of inventory which can have a major impact on a retail fueler's profitability, and depending on the exact cause could result in fines or notice of violation.
Alternatively, variances caused by accounting errors can create additional liabilities and tax implications for a business, all while masking real fuel losses.. Identifying and minimising all sources of variance within a fuelling operation clarifies a company's inventory, compliance, and financial status at any given time, drives down its liabilities, and eliminates waste.
How much can you save by lowering variance?
Let's assume that you pay $1,00 a litre, and that your site throughput averages 375 000 litres per month. If your starting variance was just 3% of sales and you were able to lower it to 0.5%, you could save over $112,500 per year. For a convenience store chain with 50 fuelling sites, similar costs and average store throughput, that same reduction in variance could mean over $5,625 million dollars in savings.
The Advantage of Forecourt Automation
To optimally manage your forecourt, you need control over your wet stock and site operations.
| | | | | |
| --- | --- | --- | --- | --- |
| Wetstock Control | + | Site Control | = | Reconciliation |
| | | | | |
| | | | | |
A forecourt automation solution enables effective forecourt reconciliation and will:
Manage all aspect of the site; Users, customers, products and attendants.

Control the forecourt: dispensers, payment terminals and fuel tanks

Record all site activity: transactions, inventories, payment and shifts

Provide accessible data via PC, smartphone or tablet
COMPASS is a technology bundle that offers an integrated platform for forecourt automation management, automated reconciliation, wetstock control and site control with our TLS4B automatic tank gauge, PSS 5000 forecourt controller and LIGO embedded forecourt management software.
Consisting of Back Office (BOS), Point of Sale (POS) and reporting system, Ligo is embedded within our DOMS PSS 5000 and provides a complete wet stock management solution at site level.
Click on the banner below to calculate your prospective savings today!